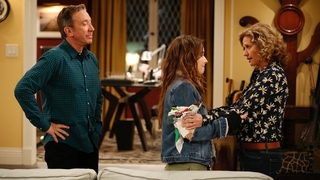 When ABC announced it was canceling Tim Allen's sitcom Last Man Standing after six seasons, conservative viewers cried foul, insisting that the show was being canceled for its conservative point of view. It's true – Hollywood tends to skew liberal (at least when it comes to the creative side), but we're also looking at a season that saw the end of The Real O'Neals, a coming-of-age sitcom about a queer teen. Last Man Standing's cancellation is all the more surprising because even though it was a sleepy performer in its Friday night time slot, it was still pulling in an average of about 8 million viewers per season. ABC also canceled Dr. Ken, the other Friday night sitcom, which may mean that the network is looking to revamp its Friday night schedule.
Allen, the star and one of the executive producers of the show, has been an outspoken conservative in the last few years. He also discussed the difficulty in being conservative in Hollywood. He likened it to 1930s Germany, which goes to show you that though he's a funny guy, he isn't necessarily a smart guy. But Last Man Standing, which produced 130 episodes will now live in syndication on basic cable, alongside his other long-running sitcom Home Improvement, and will probably easily forgotten.
It's easy to see why. It's not a great sitcom. It's an old-fashioned multi-camera sitcom, filmed live in front of an audience, with a laugh track. The actors march onto the set, hit their marks, and announce their punch lines to the merriment of the studio audience. In light of single-camera sitcoms like Modern Family and The Middle, watching Last Man Standing can be a jarring experience. The laughter – which is probably genuine with just a touch of sweetening – feels aggressive and rote. The acting is broad. The sets are laid out so that everyone is facing the audience. There's an artificiality to Last Man Standing that feels disruptive, and the show's limits cannot transcend the issue.
Still, it wasn't a terrible show, and it deserves some recognition of what it was trying to do. Tim Allen's character, Mike Baxter, wasn't the first conservative on a TV sitcom. Two of the most famous examples would be Archie Bunker on All in the Family and Alex Keaton on Family Ties. All in the Family aired for nine seasons, from 1971 to 1979. During that time the country saw three presidents: Richard Nixon, Gerald Ford, and Jimmy Carter. For the bulk of the show's run, Archie Bunker became a voice of the reactionary American conservative during the Nixon and Ford administrations. When show creator Norman Lear created Archie, he wanted to lampoon the knee-jerk response to the growing progressive movement. His show aimed to ridicule the backlash to anti-war movement, feminism, gay rights, and civil rights. But the writers and star Carroll O'Connor took what could've been a toxic character and imbued him with dignity and appeal. His conservatism was played for laughs, and the scripts always made sure that the audience knows that Archie was wrong, but he evolved into a nuanced and complicated character, who was able to outclass Lear's oft-preachy tone.
But Tim Allen is no Carroll O'Connor. One of the main debits of the show was its star. On Home Improvement, Allen was able to parlay his comedic persona – the grunting, wannabe Alpha-male – into an appealing sitcom character. Home Improvement was a smash hit, lodged permanently in the top 10 for all of its 8 seasons (peaking at an incredible number 2 in season three). At one point in the show's history, over 20 million people watched Tim Allen's Tim Taylor hurt himself in a variety of ways by misusing and abusing power tools. Even though the show was a ratings hit, critics were dismissive, and though it pops up form time to time in syndication (often paired with Last Man Standing), it's barely remembered as an important program of the 1990s.
Despite Allen's presence, the show still manages to say something, despite its deadening blandness. Those who defend the show's conservatism – and those who lambaste it – are missing the point. Yeah, Mike Baxter was a conservative and he hated Obama and Hillary Clinton, but the anti-liberal jokes were incredibly soft (this could be because as Allen pointed out, most of the writers were liberals) When Mike Baxter got on a rant against something – whether it's political correctness, gender, or taxes – he morphed into the archetypal cranky old white guy. There was little bite to what he was saying, because he wasn't saying all that much.
And there was so much potential. The show ran during the Obama Administration when so much of the country was divided by a backlash against his progressive policies and against the fact that a Black man was running the country. Mike Baxter could've been a voice for that backlash – a humanizing voice that would complicated the image of the eccentric and violent yahoos who burned effigies of Obama at protests. Because the show is centered on an upper-middle class family, none of the economic issues that the country faced, namely the crawling recovery from the Great Recession, are handled in any sort of meaningful manner. During the Obama administration, queer rights had made some startling leaps forward, and the show barely mentioned queer people. The reason for this is probably because Friday nights on ABC tend to skew to family-oriented shows. In its salad days, ABC marketed Friday nights with a bloc of family sitcoms, TGIF. Such classics of mediorcrity like Family Matters, Perfect Strangers, My Two Dads, and the magnus opus of suckitude, Full House were event watching for a lot of 80s kids. So the real estate probably wasn't the most hospitable for a hard-hitting, socially relevant sitcom.
But there's another show in Last Man Standing, a far more interesting show that hardly anyone looks at: and that show stars Nancy Travis. Travis is TV's most appealing character actress/comedienne, whose career is marked by an inability to find a sustaining vehicle for her abundant talents. The fact that Last Man Standing gave her work for six straight years is reason enough to praise the show because Travis is a find.
On the show, Travis played  Vanessa Baxter, a geologist who is married to Allen's sporting goods store exec. It's with Vanessa that the show starts to gel into something somewhat interesting. The story of how a moderately progressive, intelligent scientist can stand being married to a sometimes-blowhard like Mike Baxter makes for some solid TV watching. Unfortunately, despite Travis' lovely presence, too often, she was pushed into the role of the straight man to Allen's grumpy goof. Her politics skew center-left, and she supported Hillary Clinton – though her liberalism is treated much like Mike's conservatism, it's a trait, like "blonde" or "pretty" and there is precious little exploration into why Vanessa likes Clinton outside of her being a woman and a Democrat. One episode decent episode explored Vanessa's personal convictions well. In it, she had to defend her support of fracking to a group of high school kids. Fracking is indefensible, and I think this was probably Allen's influence, but it gave Vanessa some shading – something that doesn't exist in the fictional world of Last Man Standing. If Travis was spun off into her own show, one of say, a recently widowed Vanessa Baxter working as a geologist or high school teacher, and juggling the demands of motherhood (and grandmotherhood), then I'd probably watch that show.
But Allen was the star of Last Man Standing and his comedic fingerprints are everywhere. He never worked to challenge his audiences, nor did he want them to question their assumptions. Instead, he was a genial, if slightly insufferable, dad who would grouse  about how weird kids are nowadays. Last Man Standing could've been a good show if it found a strong voice and stuck to it and was committed to it; instead, it coasted on being mildly dickish, sticking it to liberals, when really, they weren't watching it anyways.